Home
Infrared Level 1 Thermography
60 Credit Hours | Course # 0000316 | 60 Course Hours
Online
- Includes: (15hrs-Building Systems, 35hrs-Inspection Methods, 5hr-Reporting, 5hrs-General)
---
Understand the science behind thermography
Determine how to interpret thermogram
Describe the scope of an infrared building envelope survey
Identify methods to detect thermal anomalies
Explain the documentation required for a infrared survey report
And much more...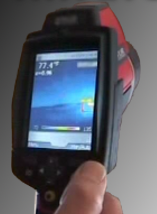 Thermal imaging cameras, or infrared cameras, provide home inspectors with new ways to visually detect defects that would otherwise be impossible to see without destructive testing. PHII's Level 1 Thermography course covers the fundamentals of infrared camera operation, testing, and practical applications. The course will instruct inspectors to properly use an infrared camera for a variety of diagnostic, monitoring, and predictive maintenance applications in building environments.

Prior experience in thermography is not necessary, and a infrared camera is not required to complete the training.

The Level 1 Thermography meets all Level I ASNT SNT-TC-1A recommendations for thermal/infrared testing, as established by the American Society for Non-Destructive Testing (ASNT).

Take the course online & earn 60 credit hours towards your Florida Home Inspector License continuing education requirement!




Click the

add to cart

button below and proceed to the checkout to get signed up. You will be emailed a username/password to login and begin.




---