Defect Recognition




8 Credit Hours | Course # 0000312 | 8 Course Hours

Online - Includes: (5hrs-Building Systems, 3hrs-Reporting)

---
Images of common defects found in both new and older homes.
Learn some unusual defects that are fascinating to know.
Be provided with comprehensive explanations for each defect encountered.
Learn the recommended course of action for each defect encountered.
And much more
Home inspection requires the ability to recognize and evaluate defects. The Defect Recognition Course is packed with interactive computer flash cards featuring images from homes across the country. This course is valuable for home inspectors of all levels. It can help beginners learn to recognize a variety of defects, while also challenging seasoned inspectors.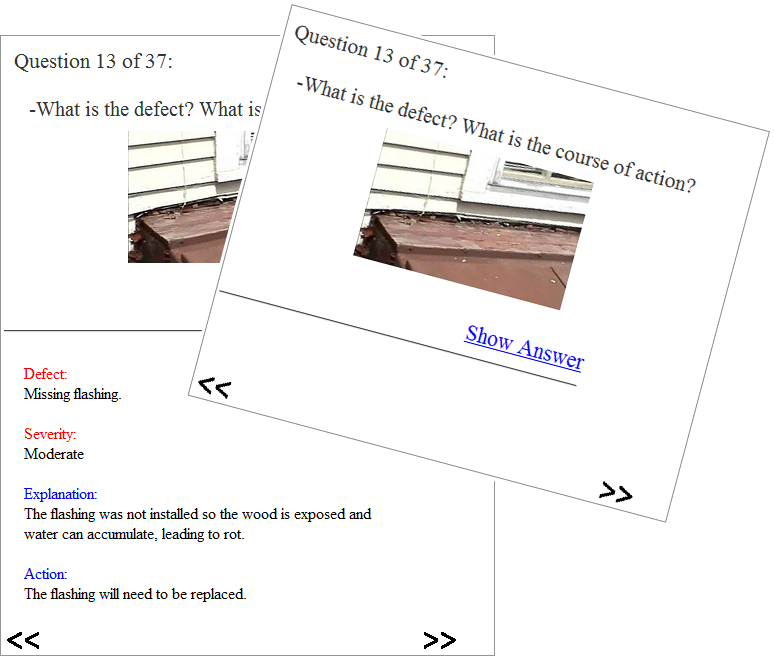 The Defect Recognition Course has over 275 computerized flash cards that cover defects from the major systems of a home, including Exterior, Site, Structure, Roofing, Attic, Basement, Plumbing, Electrical, Interior, and HVAC.
Each flash card shows inspectors a defect photo and asks them to identify 1) the defect shown and 2) what is the appropriate course of action. Click the button and the card expands to revel the answers. A great refresher course which can be reviewed over and over again!

Take the course online & earn 8 credit hours towards your Florida Home Inspector License continuing education requirement!
Continuing Education Approvals
Defect Recognition can be used for continuing education credits in & Florida



Click the

add to cart

button below and proceed to the checkout to get signed up. You will be emailed a username/password to login and begin.




---
Defect Recognition is also available through the following offers: